Only a few exhibition spaces left at Asia's premier fresh produce trade show, say organisers
Asia Fruit Logistica is almost sold out of exhibition space with more than a month to go before it takes place in Hong Kong on 6-8 September 2023, according to a media release from organiser Global Produce Events (GPE).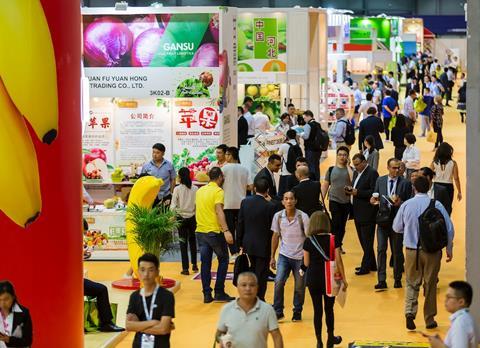 More than 97 per cent of available exhibition space is already booked, with only a few places still available, GPE said. Companies keen to exhibit at this year's Asia Fruit Logistica were advised to apply immediately via the online stand registration link.

Exhibitor bookings from China are at record levels, according to GPE, which noted exceptionally strong demand after the lifting of Covid-19 restrictions. China is once again the single-largest exhibiting nation at Asia Fruit Logistica. Australia, the US, New Zealand, and Egypt also have a prominent presence on the show floor.
Around 600 exhibitors from some 40 different countries and regions are set to showcase their products and services at Asia Fruit Logistica, including Australia, Belgium, Brazil, Bulgaria, Chile, China, Colombia, Ecuador, Egypt, France, Germany, Greece, Hong Kong, India, Israel, Italy, Japan, Kenya, Korea, Malaysia, Mexico, Moldova, Morocco, the Netherlands, New Zealand, Pakistan, Peru, the Philippines, Poland, Singapore, South Africa, Spain, Taiwan, Thailand, Turkey, the UAE, Ukraine, the UK, the US, and Vietnam.
Asia Fruit Logistica features some 24 national or regional pavilions from Australia, Belgium, Brazil, Canada, Chile, China, Ecuador, Egypt, France, Germany, Korea, Italy, Malaysia, Moldova, the Netherlands, New Zealand, Peru, Poland, South Africa, Spain, Taiwan, Turkey, the US, and Vietnam.
Moldova makes its debut
Moldova joins Asia Fruit Logistica 2023 for the first time. Moldova Fruct, the East European country's fruit producers and exporters association, is hosting a national pavilion.
"Moldova Fruct is excited to participate in Asia Fruit Logistica for the first time," said Iurie Fala, executive director. "Moldova wants to break into new markets and introduce our exceptional products to the world. We're ready to showcase the finest flavours our country has to offer under the 'Moldova – Taste Makes the Difference' brand."
Moldova Fruct has more than 180 members. They include large agribusiness companies that specialise in apples, pears, stone fruit, and table grapes. "We've had a great experience participating at Fruit Logistica in Berlin," said Fala. "We established new contacts and made long-term relationships with different countries. Our producers and exporters are looking to diversify their export markets. Asian markets are a priority."
Top machinery and tech on display
Asia Fruit Logistica also showcases a variety of technologies and solutions from across the fresh produce value chain.
Visitors can find a wide range of high-tech machinery, from automation and sorting technology, through packing and processing, to IT solutions and POS equipment. Key exhibitors include Fuji Machinery, Greefa, MAF Agrobotic, Reemoon, Tomra Food, Tosca, Unitec, and Weber Cooling, according to the release.
New technology, from smart agriculture to greenhouse solutions, is also on display. Exhibitors include top tech companies such as AgroFresh, DeltaTrak, Green Agrevolution, and Sensitech, GPE noted.
The online ticketshop for Asia Fruit Logistica is now open. Visitors can skip the queues in Hong Kong and save up to 40 per cent by purchasing their tickets online compared to the onsite rates. Visitors also enjoy free access to Asiafruit Congress and Asiafruit Business Forum, which are held on the trade show floor.