Shipping group said it achieved "robust" half-year results in a weaker market environment
Hapag-Lloyd has released its results for the first half (HY) of 2023, with revenue and earnings taking a hit amid a "weaker market environment" that saw "subdued demand".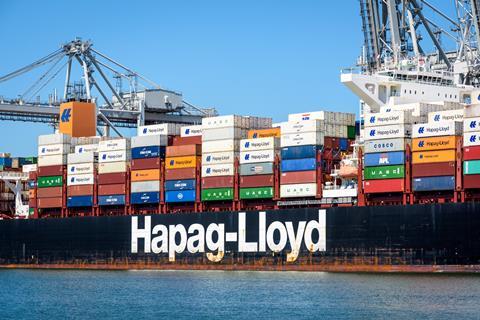 Revenues dropped from US$18.56bn in the first half of 2022 to US$10.85bn, while EBITDA fell from US$10.94bn to US$3.78bn.
Year-on-year group profit came in more than US$6bn lower, down from US$9.47bn to US$3.13bn, the group said.
"Weaker demand and lower freight rates are having a very noticeable impact on our earnings," said Rolf Habben Jansen, CEO of Hapag-Lloyd AG.
"In a challenging market environment, we can look back on a successful first half year overall, in which we were able to expand our terminal portfolio while also significantly boosting our customers' satisfaction thanks to our focus on quality.
"In the second half of the year, we will continue to focus on formulating our 'Strategy 2030'," he added. "This strategy will guide us forward on our strategic path to success in 2024."
For the full year 2023, Hapag-Lloyd confirms the forecast it published on 2 March, with EBITDA expected to be in the range of US$4.3bn to US$6.5bn.
"However, the ongoing war in Ukraine, geopolitical uncertainties, persistent inflationary pressures and high inventory levels are creating risks that could negatively impact the forecast," the group outlined.