Wide-ranging programme of workshops on show floor at Asia Fruit Logistica includes Launchpad, Partner Content and Logistics Hub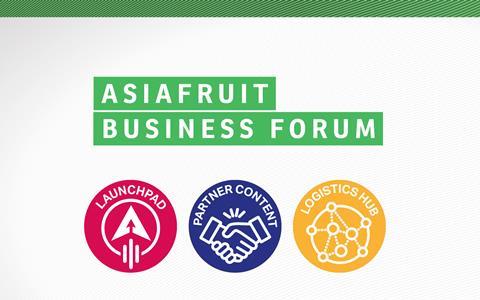 Asia Fruit Logistica visitors and exhibitors can join a diverse programme of workshops and information sessions at Asiafruit Business Forum, which takes place daily on the trade show floor on 6-8 September. Curated by Asiafruit Magazine, the Asiafruit Business Forum is back with a new format featuring three different tracks.
Launchpad
The Launchpad on Day One (6 September) provides a platform for exhibitors to showcase a range of products, technologies and solutions.
Hans Liekens of Sekoya Fruit discusses the 'blue skies' for the blueberry business as consumption continues to boom. Duncan T Aust of AgroFresh explains how the company's post-harvest solutions help growers and marketers to maintain product quality throughout the supply chain with real-time data and insights. Ting Yuan of Shenzhen Asia Global analyses the current situation and future development of China's imported fruit supply chain. And Basilio Huang of Lytone Enterprise showcases the LytoFresh quality solution, which helps to achieve uniform standards and minimise post-harvest losses.
Partner Content
Day Two (7 September) at Asiafruit Business Forum features Partner Content. The International Fresh Produce Association (IFPA) delivers a series of education sessions focused on food safety and retail merchandising in the morning (11:00-12:30).
IFPA A-NZ managing director Ben Hoodless moderates a discussion 'Asian market – supply chain best practices' with an expert panel including Luke Wood of supply chain traceability specialist Escavox, Michael Simonetta of major grower-marketer Perfection Fresh Australia, and Noel Ainsworth of Queensland Department of Agriculture & Fisheries.
Deon Mahoney, IFPA A-NZ's head of food safety, is also joined by Stacey Wang of Walmart China and Natalie Dyenson of IFPA to discuss 'Food safety and supply chain in the modern era'.
The IFPA programme then switches the focus to retail merchandising and training. Winstone Chee of Altitude Fresh gives a talk on 'The 3 i's of merchandising: impulse, impact and incremental'. He also chairs a discussion on 'How traditional merchandising meets modern consumer needs' with Ruth McLennan of DFI Retail Group, Edgar Fernandez of Landers Superstore, and Lauren M Scott of IFPA.
Chinese-language sessions
In the afternoon of the Partner Content Day, Asiafruit China hosts a series of Chinese-language workshops offering practical advice on developing a premium domestic fruit brand in China, from production through post-harvest to marketing. The Chinese-language sessions feature insights from leading Chinese companies.
Liang Chang of Shennong Variety Management discusses varietal development and management in China, and he explains how new cultivars are creating commercial opportunities.
Zhu Yi of leading sorting company Reemoon outlines some of the advances in grading solutions that can help generate more value for growers.
Xu Churan, Pagoda's marketing director of and content e-commerce general manager, also shares the leading Chinese fruit retail chain's strategies and experience in developing its various domestic fruit brands.
Logistics Hub
Asiafruit Business Forum concludes on Day Three (8 September) with the Logistics Hub, a series of workshops on cold chain logistics.
Thomas Eskesen, founder of Eskesen Advisory, delivers a keynote presentation in the opening session on the current situation and outlook for global reefer shipping.
Expert talks also look at new solutions for fresh produce shippers, with workshops on shelf-life extension technologies, cold chain distribution and traceability.
Ivo Tunchel of StePac PPC discusses the company's fully automated modified atmosphere packing solution for cherries implemented in Chile. Paul Cheng of Hong Kong Air Cargo Terminals (Hactl) explains how it is catering to the increased volumes of perishable traffic transiting Hong Kong with its new climate-controlled facility. And Gerd Uitdewilligen of Copeland (formerly Emerson Climate Technologies)'s Cargo group shares some of the latest advances in supply chain tracking and traceability.
Access to Asiafruit Business Forum is free for all Asia Fruit Logistica visitors and exhibitors.
For more info on Asiafruit Business Forum, including full programme and speaker updates, visit www.asiafruitlogistica.com/ASIAFRUIT-BUSINESS-FORUM/