Top names gather at Fruitnet's new meeting point for the tropical and exotic fresh produce business.
Dole's Xavier Roussel, Charles-Henri Deprez of Greenyard Fresh, Maria Wieloch of Swedish retailer ICA, Westfalia's Johnathan Sutton, Avnish Malde of Wealmoor, and Guillaume Sens of Georges Helfer are just some of the headline speakers who will take part in Fruitnet's inaugural Global Tropicals Congress in The Hague on 14 September.
Click here to reserve your ticket for Global Tropicals Congress
Scroll down to read more about the event's speaker line-up…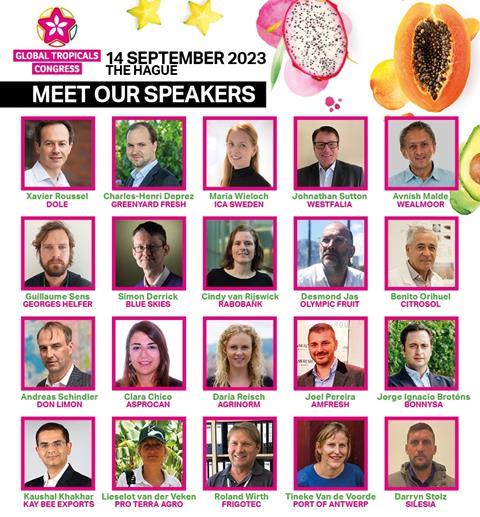 In a packed one-day conference programme of talks, presentations and interviews across a bustling networking and expo space, Global Tropicals Congress takes a fresh look at how to meet growing consumer demand for tropical and exotic fruit in the European market. Speakers include…
Rabobank's Cindy van Rijswick and Desmond Jas of Olympic Fruit share analysis of the latest trade and consumption data in key tropical fresh produce lines.
Our European retail and importer panel – Maria Wieloch (ICA), Avnish Malde (Wealmoor), and Guillaume Sens (Georges Helfer) – discusses how the sector can maintain price levels and tap into new marketing opportunities to ensure sustainable growth.
Sustainability experts Xavier Roussel (Dole), Johnathan Sutton (Westfalia), Simon Derrick (Blue Skies), and Lieselot van der Veken (Pro Terra Agro) look at ways to tackle the challenges of climate change, water shortages and improving working conditions while contributing to the long-term future viability of the industry as a whole.
Citrosol's Benito Orihuel, Roland Wirth of Frigotec, Port of Antwerp's Tineke Van de Voorde and Daria Reisch of Agrinorm shine a spotlight on emerging technologies in post-harvest, ripening, logistics and quality control management that are driving improvements in the quality and consistency of tropical fruit.
Kaushal Khakhar of India's Kay Bee Exports, Joel Pereira and Darryn Stolz of AM Fresh and Clara Chico of Asprocan headline our Rising Stars session, which looks at some of the new products and supply sources hitting the European tropicals market.
We take a closer look at limes and papayas with Andreas Schindler of Don Limon and Jorge Ignacio Brotóns of Bonnysa respectively.
In a keynote interview, Charles-Henri Deprez of Greenyard shares his outlook for the road ahead for tropicals in Europe, looking at effective strategies to build more sustainable supply chains that create long-term value for stakeholders.
If you want unparalleled networking opportunities and thought-provoking discussion on what retailers and suppliers can do to further develop consumer demand for tropical and exotic fruit, or simply want to present your own products and services, register for Global Tropicals Congress here.
Make the best business connections at Global Tropicals Congress.