The Fresh and Secure Trade Alliance is an eight-year project designed to protect and grow Australia's horticultural exports
A host of partners have signed on to an ambitious new A$130m Australian horticulture trade initiative called the Fresh and Secure Trade Alliance (Fasta) with the aim of supercharging fresh produce exports.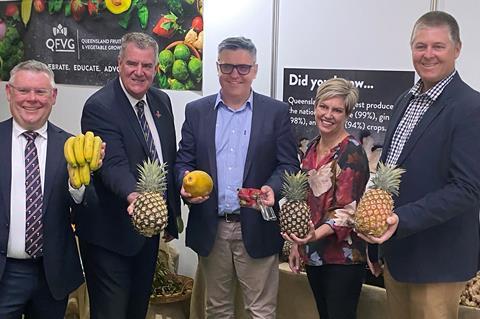 Delivered through the federal horticulture research and development corporation, Hort Innovation, and led by the Queensland Department of Agriculture and Fisheries, the eight-year programme will see key Aussie export stakeholders and officials joining forces to help protect and grow Australia's horticultural exports.
As part of the programme, Fasta will also boost biosecurity initiatives to solidify Australia's strong reputation in pest-management and as a responsible trading partner for years to come.
Insect pests are a major challenge for Australia's horticultural producers as they impact production and domestic and international trade. Australia's trading partners require evidence that Australian horticulture exports are insect pest free.
Fasta's research programme is focused on two areas. The first is delivering robust and timely datasets to underpin market access negotiations. State and territory governments will work together to standardise their approach to collecting phytosanitary, or pest and disease management, data.
This data demonstrates that Australia's produce is pest-free while also ensuring the impact of phytosanitary treatments on fruit quality will be minimised. These datasets will be used to open new export markets for Australian produce and improve access to existing ones.
The second area of focus will be increasing understanding of fruit fly and other key pests. A multi-discipline, multi-organisational research team of over 70 scientists from across Australia will test new technologies for tracking pests, trapping pests and reducing pest pressure. The eight-year programme will increase Australia's research capabilities in pest management research and facilitate world-class research.
Federal minister for agriculture, fisheries and forestry Murray Watt said the research will be able to be used by Australia's Department of Agriculture, Fisheries and Forestry in international trade negotiations or by states and territories in supporting domestic trade.
"This initiative will reduce the impact of endemic pests on sustainable horticulture crop production, improve Australia's preparedness for future exotic pest incursions and facilitate a national, industry-driven and coordinated approach to research activity supporting horticultural market access and improvements," Watt said.
"Many of Australia's biggest trading partners are passionate about pest management, and this project will help Australia open and maintain these markets and the billions of dollars in annual trade they represent to our horticulture industry."
Hort Innovation chief executive Brett Fifield said export growth has never been more important for the A$16bn horticulture sector, with most industries identifying enhancing and diversifying export markets as a priority.
"The Australian horticulture sector is projected to surge by up to 22.5 per cent in value by 2030, primarily due to increased exports in trade-focused commodities," he said. "Through streamlined evidence-based data collection for the Australian government's trade negotiations and strengthened biosecurity measures, Fasta will support this growth."
Queensland minister for agricultural industry development and fisheries and minister for rural communities Mark Furner said Fasta will ensure Australia's reputation for high-quality horticultural produce is protected and enhanced.
"The Australian horticulture sector is known for delivering high-quality and safe produce," he said.
"Through the delivery of state-of-the-art research and development, Fasta will bolster the nation's pest management capacity to safeguard the Australian horticulture industry now, and into the future."