Leading banana grower lists nine farms in Far North Queensland for sale while Mackay's Marketing business will be retained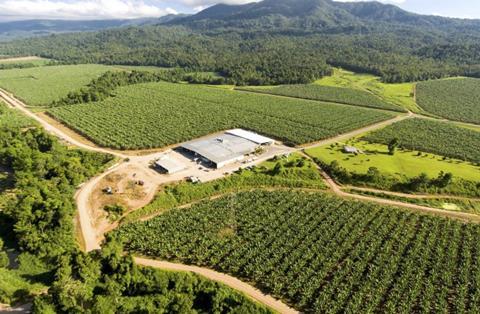 One of Australia's largest banana growers Mackay Farming Group has listed its nine farms and total farming operations across the Tully and Lakeland regions of Far North Queensland for sale after 75 years of family ownership.
The nine farms cover around 5,861ha with approximately 1,262ha planted with permanent crops including bananas, avocados, papayas and lychees.
Mackay's Marketing, which was established over 20 years ago to manage the logistics from the farm gate direct to major retail partners, Coles, Woolworths and more recently to Aldi, is not included in the portfolio. This business also provides marketing services to other large family-owned producers in Far North Queensland, in addition to managing the supply chain for Mackay's farms.
JLL's Agribusiness team has been appointed by Mackay Farming Group to sell the portfolio by expressions of interest and senior director, agribusiness, Chris Holgar said in addition to fruit production, large scale sugarcane plantings and a complementary beef cattle enterprise are included in the portfolio.
"The Mackay Family is synonymous with horticulture in Far North Queensland and have a successful 75-year history of building their banana (and tropical fruit enterprise) from small beginnings to being Australia's largest banana producer. The portfolio supplies approximately 13 per cent of Australia's banana production, with distribution to Australia's major supermarkets," said Holgar.
"The Mackay family has strategically amassed nine individual land holdings for banana production and other tropical fruits such as red papaya, coffee, and cacao and other crops now being introduced."
Chief executive of Mackay Farming Group, Alex Hutton said the business had come a long way since Stanley Mackay planted his first crop of bananas in 1945.
"With the Tully farms underpinning the operation, the Mackay Family made a conscious decision to establish a risk mitigation strategy with the addition and development of Gold Tyne in the Lakeland region. This has provided a unique balance capitalising on ideal growing conditions across two regions with the security of mitigating biosecurity risks and having a much higher likelihood of production being uninterrupted in the case of extreme weather events to which the traditional coastal production areas are occasionally prone," said Hutton.
"We have a strong commitment to sustainable farming practices, working with nature whenever possible to protect the environment, optimising nutrition, and plant health. The Group farms are currently being audited to ensure carbon sequestration strategies also deliver optimal results.
"Surplus banana production is not wasted, with the development of freezing operations in Tully, which process an increasing volume of packed frozen bananas. This integrated operation ships processed goods to a new customer base which has been developed in recent years."