The South African fruit sector will be closely watching this month's BRICS summit in Johannesburg
The South African fruit industry is looking ahead to the BRICS summit this month in South Africa with mixed feelings.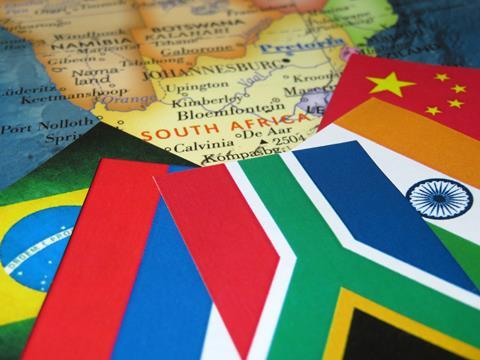 BRICS is the trading bloc consisting of Brazil, Russia, India, China and South Africa and has been in existence for some time.
However, the bloc has received greater worldwide attention because of Russia's involvement in the war in Ukraine.
Efforts to expand BRICS to form a greater trading and political group have also recently made the headlines.
In general, South Africa's fresh produce sector has been hoping that BRICS would assist in expanding access in Eastern markets.
The fact that the summit is being held in South Africa and the perceived Western view that the country has close ties with Russia has been a worrying factor for the fruit sector.
A major concern was that Russian president Putin may attend, but this is no longer the case with Putin opting to stay at home.
On the one hand there is concern that the close ties South Africa has with Russia may make things difficult for them in trade with the US and Western trading blocs, such as the European Union.
On the other, trade with BRICS countries has grown substantially over the past few years and some sectors of the South African fresh produce export industry hope that the summit could lead to increased market access in these countries.
South Africa's Citrus Growers' Association (CGA) pointed out this week that South Africa had healthy citrus exports into three of the BRICS member countries.
"South Africa has healthy trade with both China and Russia, while India is starting to show promise," noted Justin Chadwick, chief executive of the CGA.
"Russia has been an important destination for South African citrus for many years," he outlined. "Since South African citrus gained access to China in 2004, exports have increased dramatically.
"Unfortunately exports to India remain way below potential levels, as access conditions remain difficult and import duties remain high."
South Africa's total citrus exports to China, Russia and India have grown from 25m (15 kg) cartons in 2018 to over 30m cartons in 2022.
"This represents 19 per cent of all citrus fruit exported in 2022," Chadwick explained. "The citrus basket exported to these countries is mostly oranges, with grapefruit, lemons and mandarins being imported in greater quantities."
While South African exports of apples have declined to the UK and EU, there have been considerable increases in shipments to the Far East in recent years.
South African avocado exporters are yet to get access to China and there are high hopes that the BRICS summit may be the forum to make new announcements about trade with the East.
Despite efforts over the past few years to develop greater South African table grape exports to the East, more than two-thirds of the country's table grape crop is still sold in the EU, United Kingdom and surrounding countries.
At the same time, Western Cape citrus growers will perhaps be more nervous about the BRICS summit in South Africa.
In recent months South Africa's relationships with Russia has been a sticky point for US legislators who are currently reviewing its African Growth and Opportunities Act (AGOA).
South Africa has had benefits under AGOA for more than 20 years and has built a significant business under the Summer Citrus export initiative during this time.
They are hoping that this month's summit will not add fuel to the fire where it comes to South Africa-US relationships.