Australian Macadamia Society launches new promotional effort harnessing a fresh menu of recipes created by MasterChef alumni Mindy Woods
A marketing campaign launched by the Australian Macadamia Society has laid claim to the affectionate nickname 'Macas' in a light-hearted dig at fast food giant McDonald's.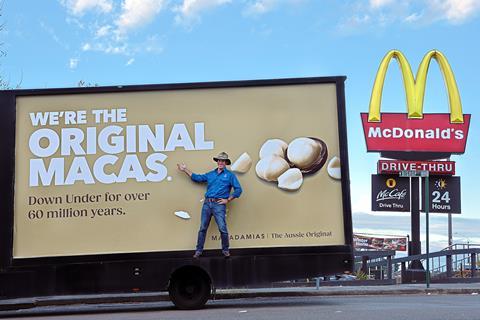 The peak industry body's 'Original Macas' campaign is designed to highlight to consumers that macadamias are native to Australia and celebrate the nut by showing how it can be incorporated into meals.
To kickstart the campaign, Australian macadamia nut grower Michael McMahon spoke to media outside a Mcdonald's in Sydney accompanied by an 'Original Macas' billboard. McMahon encouraged Australians to support local farmers by purchasing the native nut.
"Macca's might be synonymous with the big golden arches, but since we're The Original Macas - we're staking our claim. I'm an Australian macadamia grower and a 'Maca' myself and I'm putting a call out to all Aussies to join forces in celebrating The Original Macas," said McMahon.
"Aussies can all show some love and support for our local growers by grabbing a bag of Australian macadamias from their nearest supermarket or store."
As part of the campaign, Australian Macadamias teamed up with Masterchef alumni, and proud Bundjalung woman, Mindy Woods to create two native-infused recipes, The Original Macas Burger and Mylkshake.
Both recipes have been crafted to highlight native ingredients and the taste and nutritional value of macadamia nuts. The two recipes demonstrate how macadamias can be enjoyed in innovative ways, from a native spiced beef and kangaroo patty featuring the Original Macas, to the creamy delight of macadamia mylk and butter in The Original Maca(damia)s mylkshake.
"I have always loved macadamias and incorporating them into recipes, their versatility allows me to experiment with them in new ways and infuse their robust flavour profile into my cooking. The native credentials of macadamia nuts also hold a special place in my heart," said Woods.
"As a First Nations woman, I seize every chance to share the significance of native and indigenous foods. The connection they foster with my ancestors and culture makes native food incredibly meaningful to me. I'm thrilled to be working with Australian Macadamias on The Original Macas menu, to shine a light on native foods and inspire Australians to embark on their own discovery of the wonders of native ingredients."