New Fresh Food Challenge harnesses DC Super Heroes to encourage fresh fruit and vegetable consumption
Coles has announced a new partnership with Warner Bros. Discovery Global Consumer Products and DC that will see DC Super Heroes and Super-Villains used in a campaign to get Australian children to eat more fruit and vegetable.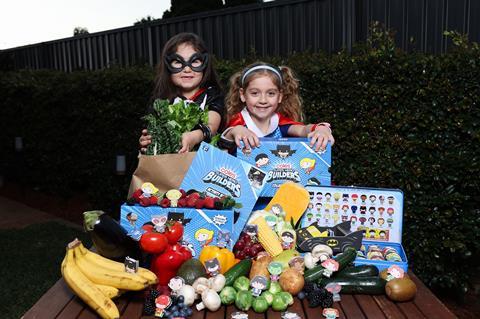 The Fresh Food Challenge will encourage Australians to "eat like a DC Super Hero and feel like one too" as it is paired with Coles' popular builders collectable programme.
The collectables will feature famous DC characters including Batman, Wonder Woman and Superman, along with super-villains The Joker, Catwoman and Poison Ivy. The collectables are made from 100 per cent FSC certified cardboard sourced from responsibly managed forests, and are also recyclable in household recycling bins at end of play.
The stars of the challenge are linked with fresh fruit and vegetables, for instance, energy-rich bananas for adventurers like Batman, fibre-rich apples worthy of Amazonian warriors like Wonder Woman and juicy sweet corn for strength like Superman.
Coles chief customer officer Amanda McVay said at a time when cost-of-living is front of mind for customers, Coles is providing another way to help give value back to customers through entertainment and food education.
"We're excited to launch the Fresh Food Challenge alongside the new DC Super Hero Builders program," said McVay.
"We know through data that only 8.5 per cent of children aged 2 to 17 years meet the daily recommended serves of fruit and vegetables. The fun challenge features a free chart with a collector checklist to follow and complete the pairing of 35 fruit and vegetables with their iconic DC Super Heroes and Super-Villains.
"This programme is centred on helping educate our customers in a fun way, on the health benefits of great quality Aussie fruit and veg to help them stay well this Winter. We also want to make it easy for parents to educate their children on fresh food choices – and are doing this by teaming the DC Super Hero Builder program with fruit and vegetable education."
Accredited practising dietitian Joel Feren said fruit and vegetables are the cornerstone of a healthy eating plan.
"Fruit and veggies provide vitamins, minerals, dietary fibre and antioxidants to help protect our bodies and reduce future disease risk," Feren said.
"As a dad I know it can be tricky to convince kids to eat veggies. Fun activities like this can help parents to encourage healthy eating in children, plus research shows that children learning to like eating vegetables at an early age is critical to set up positive habits for life."